Homesteaders Community Center
Please Join Us For
Spring Clean Up
Saturday May 22nd
9am-4pm
Rain or Shine
Roll up your sleeves and help us clean up our Community Center
11760 West Hawk Lane
Corner of Hawk Lane and Parks Hwy (mile 53.5)
Serving Hot dogs at 12pm.
Homesteaders Community Center was first organized by residents of Mat Su's Mid Valley in the 1950s. Built as a "Rural Development Project back in the early sixties. It is one of the oldest buildings in the area. For many years it was the only meeting place in area. It has served as a city hall and was used for meals on wheels in the mid 1980's. The exterior was renovated after the Millers Reach Fire. And it was renovated in 2015, bringing it up to code and installing a new dance floor.
The center has been managed by an all volunteer board of directors and has been maintained by local resident member volunteers.
Homesteaders Communter Center is a non profit organization dedicated to serving the community as a center for public and private events.
Weekly exercise classes, monthly gaming groups, an occational dance and annual holiday dinners. We also have been rented for: weddings, receptions, family reunions, birthday parties, monthly meetings, educational seminars and other community needs. Commercial Kitchen available upon request and deposit required. Both members and and non members use the facility.
Rental fees are very reasonable. Renters of our little building have been quite happy with the experience. We are here for you!
Don't hesitate, give us a call or send an e-mail. We would be happy to make you part of the Homesteaders family. We are looking to move forward. This is done with new ideas, put forth by a diverse section of the community. Please come and sign up as a member, see what's happening or help make things happen. Join us for our monthly board meeting which is held the second Tuesday of each month, at 7:00PM.
Homesteaders Community Center available to rent. Available to Members or Non-Members Reasonalbe rates Tables & Chairs available Maximum Capacity: 50 people. 2 Bathrooms Commercial kitchen available for an additional fee Handicap accessable with a ramp Large Parking Lot
Contact Veronica at 355-2230
email: rentals@homesteadershoustonalaska.com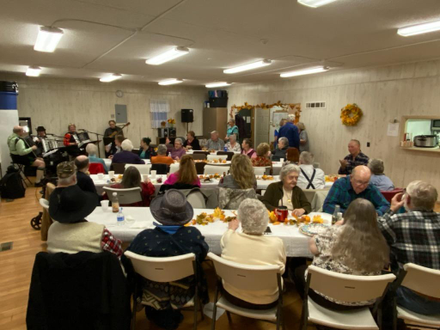 Homesteaders is available to rent for your family gathering or social event. When you don't want everyone to come to your house. We have plenty of chairs and tables so you can allow for physical distancing. People from the same household can be in groups together and don't need to be spaced far, just aim to stay 6 or more feet away from other families. Use disposable dishes and utensils. Contact Veronica for rentals.
Thank You for your support!
St. Patricks Day Dinner was a sucess! We served and delivered dinners through the Houston area. We raised over $1,235.00 for Homesteaders. Thank you to our supporters! Thank you to Gorilla Fireworks for donating the food.